Do more with your checking balance than pay bills and invoices; earn money too with competitive interest.
Key Features

Online Banking with Bill Pay

Mobile Banking with Deposit

eStatements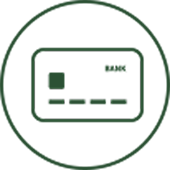 EMV Debit Card
Details
Versatile checking available to sole proprietors and nonprofit organizations
Boost your bottom line with competitive interest
No monthly maintenance fee
No minimum balance requirements
100 free items per month; 12¢ per item thereafter1
Unlimited check writing
Free night depository service and drop bag
Free digital banking
Free EMV debit card2
$50 minimum deposit to open
2Available for certain accounts.
To Open an Account
To assist in opening your new account, we may request the following:
Sole Proprietor/DBA
Limited Liability Company (LLC)
TIN of LLC
Operating Agreement
LLC Resolution
Partnership
TIN of Partnership
Partnership Agreement
Certificate of Partnership
Not-For-Profit Organization
TIN of Organization
If incorporated, follow corporation guidelines
If tax exempt, IRS documentation or tax return
If not tax-exempt, authorization letter
Corporation
TIN of Corporation
Corporate Resolution
Fictitious Business Name Statement may also be requested
Checkmarc
Checkmarc is a FREE service for your account that recovers dishonored checks and electronic payments. It eliminates the time you currently spend trying to recover dishonored checks, and makes accepting checks as safe as accepting cash or credit cards. With our free Checkmarc program you can concentrate on your business, not collections.
Checkmarc's benefits include:
Receive 100% of the face value of all recovered items
Receive email notification of dishonored checks as well as recovered items
Access to a dedicated customer service team for all inquiries
Access to a free, password-protected check-tracking website available 24/7/365
We are pleased to provide Checkmarc at NO COST to you. There is no equipment to purchase or contracts to sign. A welcome packet with your Checkmarc ID number, username and password will be emailed or faxed to you upon enrollment.
Notifications of bad checks and reimbursements will also be sent via email. Your email address will only be used for notifications and bank service updates.
At Belgrade State Bank, we support business. Checkmarc is another way we can work together to make you more profitable.
If you DO NOT wish to participate in our free Checkmarc electronic check recovery program, please contact a new accounts representative.