Save hundreds of dollars a year with the many added benefits from this account, like mobile phone coverage and ID theft protection.
Key Features

Online Banking with Bill Pay

Mobile Banking with Deposit

eStatements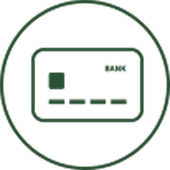 EMV Debit Card
Details
All-inclusive checking features a wide assortment of benefits
Available as an upgrade for our other checking accounts
Low $6.95 monthly membership fee (additional options for more AD&D coverage)
No minimum balance requirements
Unlimited check writing
Free digital banking
Free EMV debit card
$50 minimum deposit to open
Identity Theft Protection
You can rest easy knowing that you and your joint account holders are protected by our comprehensive IDProtect™ service1, which includes:
Identity Theft Expense Reimbursement Coverage
Comprehensive Identity Theft Resolution Services
Debit and Credit Card Registration
3-in-1 Credit File Monitoring
3-in-1 Credit Report
Total Identity Monitoring
IDProtect Identity Theft Protection requires separate enrollment.
Mobile Phone Coverage
Are your mobile phones protected? In case of damage or theft, this service will reimburse the eligible account holder up to $300 per claim.1
Coverage is automatic – there are no separate enrollment forms to fill-out
Covers the first 3 lines listed on your cell phone bill
Limit of two (2) claims per 12-month period
Coverage is subject to $50 co-pay
Easy claims process
1Special Insurance Program Notes: The descriptions herein are summaries only. They do not include all terms, conditions and exclusions of the policies described. Please refer to the actual policies for complete details of coverage and exclusions. Insurance is offered through the company named on the certificate of insurance. Refer to Guide to Benefit for complete details of coverage.
Insurance product is not insured by FDIC or any Federal Government Agency; not a deposit of or guaranteed by the bank or any bank affiliate.
Accidental Death & Dismemberment Insurance
Coverage is provided immediately at no additional charge. If joint account, total coverage is divided evenly. Coverage includes several additional benefits related to accidental deaths or dismemberment such as coma, seat belt and airbag benefits. Options of $10,000, $20,000 or $30,000 in AD&D coverage levels.
Banking Perks
No Minimum Balance Requirement
Regardless of your minimum balance each month, your regular checking account will not receive any additional service charge. You pay the same amount every month.
Distinctive Personalized Checks
Free checks will be provided to you, designating you as a BSB Club member.
Safe Deposit Box Discount
A 10% annual discount applies to the rental price of any size safe deposit box, depending upon availability.
Money Orders and Cashier's Checks
When you need a bank money order or a cashier's check, just ask us. We'll issue up to 10 per month at no charge, if you're a member of the BSB Club.
Photocopies
As a member of the BSB Club, you are entitled to make up to 25 copies of your personal papers
$5.00 Stop Payment Discount
Receive one $5 discount on your stop payment orders monthly.
Medical Discounts
Prescription Drug Discounts
THIS IS NOT INSURANCE
You and your family will receive discounts on your prescriptions through local participating pharmacies and major chains.
Eye Care Discounts
THIS IS NOT INSURANCE
You receive discount prices on eyewear at thousands of locations nationwide plus a 30-day satisfaction guarantee. Save 10% to 60% on vision care plus, you also have access to a network of ophthalmologists, in selected markets, providing members 10% to 30% discounts on qualified procedures.
Shopping Rewards & Discounts
Shopping Rewards
You will have access to a dynamic shopping program which will reward you every time you use it. Go to the member benefit website or app for the link to access hundreds of popular merchants, which will help you find great deals. Receive coupons and mobile discount offers from top retailers and brands online.
Local Area Discounts
Enjoy ongoing savings to thousands of discounts many in close proximity to where you live, work, or travel. Save on the things you do every day in categories like dining, shopping, attractions, travel and online deals. Simply find the discount you want and redeem by printed certificate, on your mobile Smartphone, or through a merchant's website.
Big Savings on Entertainment
Savings at major theme parks around the country. Plus, save off the box office price by purchasing movie tickets in advance for leading theaters.
Save 10% or more on Select Hotel Chains
Whether it's a weekend getaway or family vacation, use these great discounts to save on your trip planning.
Other Travel Savings
You can save up to 20% on rental cars and even more on cruises and vacation packages, simply by calling the toll-free numbers.