No need to compromise — find the right fixed-rate mortgage from our wide variety of programs.
Key Features

Competitive Rates

Flexible Terms

Variety of Programs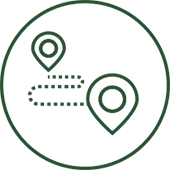 Local Processing
Details
Predictable monthly payments that stay the same for the selected term — never worry about the possibility of rising interest rates
Professional staff with experience in the local market
Personalized service every step of the way
Contact Lennie Fincher, Fixed Rate Loan Officer at [email protected] or 573-327-7002.
To see if you qualify, please fill out the pre-qualification worksheet.
Conventional
Minimum down payment of 5% (3% if first-time homebuyer; can be gift funds)
Monthly PMI required on all loans with LTV greater than 80%
Cash-out refinances require LTV <= 80%
Rate/term refinances up to 95% LTV
Minimum credit score of 640 for automated approval
Minimum credit score of 600 with compensating factors
FHA
Minimum credit score of 600
Must have at least 3.5% down payment
May be gift funds
If gift from seller, minimum down payment of 15%
Minimum of 2 years since bankruptcy
Minimum of 3 years since foreclosure or deed in lieu of foreclosure
If property is on private well & septic, a well & septic inspection is required
Property must meet HUD handbook guidelines
Minimum down payment of 3.5% required
NO PROGRAMS AVAILABLE FOR SINGLE-WIDES
Double-wide must have HUD tags
Engineer's cert on structure is required
VA
Minimum credit score of 640
No down payment required
Must have certificate of eligibility
Not available on new construction
Not available on manufactured housing
USDA
No down payment required
Homes must be move-in ready
Minimum credit score of 640 for automated approval
Minimum credit score of 600 with compensating factors
2 years full-time employment
2 credit sources >= 12 months old
12 month rental history
NOT FOR MANUFACTURED HOMES
THIS IS NOT AN EXHAUSTIVE LIST OF GUIDELINES; THESE BASIC GUIDELINES SHOULD HELP YOU DETERMINE IF CUSTOMER AND/OR PROPERTY MEETS CRITERIA FOR A FIXED-RATE LOAN.
Minimum loan amount of $50,000 for ALL programs.
Unique properties (i.e.: log homes, earth-contact homes, homes w/ 20+ acres) subject to comparable sales within past 12 months.
We cannot finance agricultural property or commercial property (stables, kennels, etc.).